TU Room Check: Search for free workplaces
In the hybrid winter semester, it can happen that events on site and in a digital form are relatively close together in terms of time, so that students need a workstation on campus to participate in the digital course.
Free central rooms at the TU may be used for this purpose. You can now find these with the new application "TU Raum-Check":
www.tu-darmstadt.de/raum-check (opens in new tab)
The application can be accessed via the browser after entering the TU ID.
You can enter only the campus in the Room input field (e.g. "S" for Stadtmitte, "L" for Lichtwiese), or enter further details such as the building number or the specific room number. The columns of the results list can be sorted by clicking on the column heading.
By clicking on the room number, you can see the room details with further information such as the number of seats with corona spacing.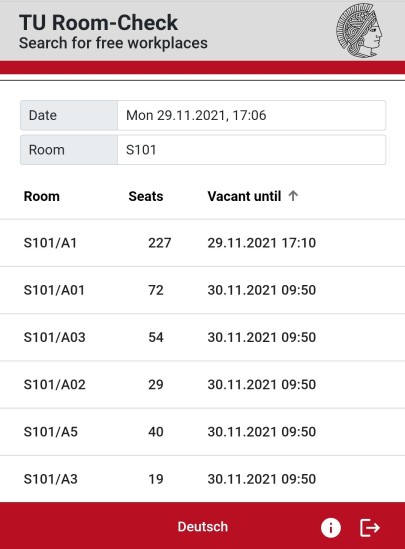 The following rules apply to the use of workstations in vacant rooms:
The rooms are to be used for work / study only
3G-rules apply
Obligation to wear medical face masks
Observe the

corona regulations of the TU Darmstadt
Please keep quiet so that other students are not disturbed
Eating is not allowed in the rooms
Please leave the room in good time before the next course starts
Please feel free to use the learning centers in the departments and workrooms of the ULB.
The campus navi helps you find your way around the campus!