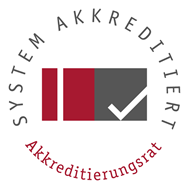 Under the procedure of system accreditation, the entire internal quality management was audited by an external agency. With attainment of the certification, all degree programs that have undergone internal quality assurance are considered accredited. Accreditations of individual degree programs or cluster accreditations are no longer required. The advantages of system accreditation are thus obvious: the university is more independent of external agencies and takes on more responsibility for quality assurance and development. The seal of approval certifies that the university's internal quality management takes account of external quality requirements in the development and further development of study programs. At the same time, TU Darmstadt was confirmed in its approach of closely linking research and teaching in its integrated quality management.
Starting signal for re-accreditation
A system re-accreditation is necessary after a period of six years. TU Darmstadt must have completed the procedure for system re-accreditation by 30 September 2023. For this reason, preparations for the second procedure began in April 2020. The President and the Vice President, Academic Affairs and Diversity are responsible for the procedure and it is carried out under the leadership of theUnit IB – Quality Management and the Unit IID – Study Programs and Quality Assurance.
Timetable for preparation for system re-accreditation
Planning of system accreditation in the first half of 2020
Call for tenders of an accreditation agency in the second half of 2020
Preparation of self-evaluation report as of fall 2021
On-site inspections at the TU Darmstadt:
• First on-site visit on November 21/22, 2022, focusing on the quality management system (discussions between experts and the Presidential Board, representatives of the central and decentralized quality management, and students).
• Second on-site visit on April 24-26, 2023, with a focus on random samples of study programs and specific sub-areas of the quality management system.
Completion of the

(opens in new tab)

by the agency by august 2022 accreditation report
TU Darmstadt submits an application for system accreditation to the Accreditation Council by September 30, 2023
Involvement of the university
A , which accompanies the system reaccreditation of the TU Darmstadt and supports the Executive Board in an advisory capacity, was established in the Senate meeting on 17 February 2021. Senate Working Group
Statement of the Senate at important milestones (e.g. self-evaluation report)
The University Council will be informed about the course of the proceedings
Further Information:
System Accreditation 2017
On 24 March 2017, TU Darmstadt was granted the seal of the Accreditation Council.

Already in 2014, the opportunities and challenges of system accreditation were discussed in an intensive dialogue within the university.

The successful conclusion of the procedure of system accreditation was celebrated in April 2017 with a ceremonial presentation of the certificate.
Previous
Next
Go to picture 0

Go to picture 1

Go to picture 2